Foo Fighters have revealed Josh Freese as their newest band member during a livestream just hours ago.
Freese, who has played with Nine Inch Nails, Guns N' Roses, A Perfect Circle, the Offspring, Weezer, and the Vandals in a career spanning 35 years, will take over from the band's beloved drummer Taylor Hawkins, who died last year.
A highly regarded, prolific session drummer, Freese has also recorded with many high-profile artists, including Sting, Lana Del Rey and Bruce Springsteen.
The livestreamed 'Preparing Music For Concerts' performance included the band's crew setting up equipment and had Red Hot Chili Peppers drummer Chad Smith, Tommy Lee and Tool's Danny Carey all briefly dropping into the studio.
The camera then turned to Freese sitting behind his drum kit.
Foo Fighters officially have a new drummer !! Welcome Josh Freese !! pic.twitter.com/gcXGMGCV0H

— Giuseppe Mercadante (@itsmercadante) May 21, 2023
After opening with All My Life, Dave Grohl simply said: 'It works for me'.
Thanks for joining us. It will be streaming on @Veeps for 72 hours on demand if you missed it: https://t.co/hzz5G9mOKy

We'll see you all soon. pic.twitter.com/c7NATC6lzD

— Foo Fighters (@foofighters) May 21, 2023
The resounding response from fans was that it worked for them too…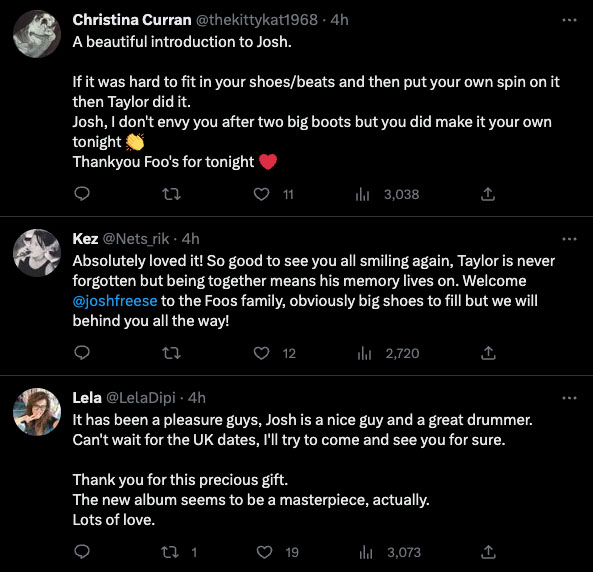 It was the group's first time on stage together since losing Hawkins, who joined Foo Fighters in 1997.
Not including Dave Grohl, Freese is the third drummer to join Foo Fighters; before Hawkins, William Goldsmith performed on the band's 1997 album The Colour and Shape.