The Tour De France is in chaos after a spectator with a sign managed to cause a major pile-up with 21 riders with injuries.
It was all a seemingly innocent act as footage shows the young woman facing the cameras waving her handmade sign written for her grandparents. The sign says "Allez Opi+Omi" (Come on Grandpa and Grandma)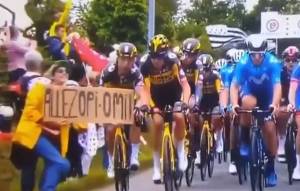 Perhaps a bit too eager, she was very close to the road and knocked one of the riders which then caused a domino effect with 50 or so riders going down in a heap.
Crazy crash at Tour De France 2021 🇫🇷

A fan who was holding a message to her grandparents & grinning for the cameras took out most of the peloton with a cardboard sign 🚴‍♀️ 🚴‍♂️ 🚴 #TDF2021 pic.twitter.com/OEZmiSjBE9

— Nigel D'Souza (@Nigel__DSouza) June 26, 2021
More unfortunate news for the spectator as police are now searching for her for causing the accident. The offence could land her in prison for a year and a fine of £13,000.
The penalty is very harsh, though police are saying that due to the extent of the injuries with many of them out of work for up to 3 months, she has to pay the price.
Want more? Listen to this best bit from Jonesy & Amanda!