Under WA law, the person who allegedly ripped the head off a kookaburra at the Parkerville Tavern last week may not be able to be charged with animal cruelty, the RSPCA has confirmed.
On Friday, the Parky reported that pub regular 'Kevin the Kookaburra' had been killed in a "barbaric attack".
The pub didn't detail what happened, but WAtoday reported that a patron at the tavern became enraged when the animal pinched some of his food, before he grabbed it and "ripped its head off" in front of shocked onlookers, including children.
Kevin's cheeky antics were well-known at the pub.
"Meet one of our locals (he's still out there). He has a love for the Parky Steak Sandwich and fish. He is loathed to buy his own and whenever possible, will sneak up and steak yours," a notice at the Parky read.
"Please be mindful of your precious steak sandwich and meals in the garden and in the meantime, we shall continue our negotiations with this chap in the hope that he learns some table manners."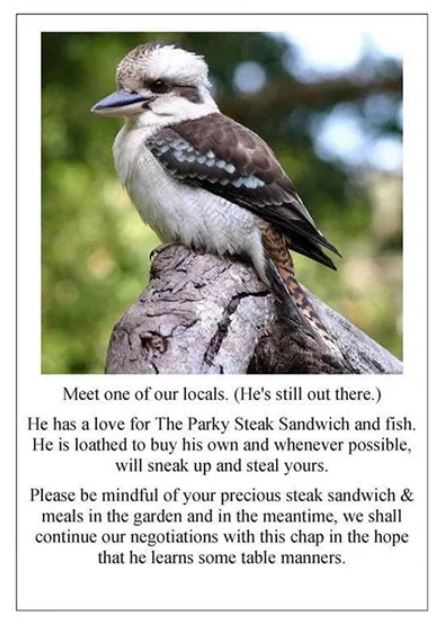 However, under the Animal Welfare Act 2002, the RSPCA said that, "due to the quick nature of this bird's demise, it does not appear to meet the level of suffering required to become an offence."
Under the current Act, inspectors can only charge someone for cruelty if they can prove the animal suffered.
The RSPCA said this was a "gap" in WA's animal rights laws, and asked supporters to make a submission to a current review.
Environment Minister Stephen Dawson said, if the allegations were true, the killing was despicable.
"The Department of Biodiversity, Conservation and Attractions is aware of the incident and is conducting a joint investigation with the WA Police Force," he said.
"I can confirm it occurred at a licenced premises in Owen Road, Parkerville, around 6pm."
The Parky has since taken down its original Facebook post regarding the incident while an investigation was undertaken.
Anyone witnessing cruelty to animals is urged to report it to RSPCA hotline on 1300 278 358.