A Melbourne man has been busted speeding in an unroadworthy car and that's not where his woes end.
Police also found his car sporting a sticker that says 'cops don't like this'.
Somerville Highway Patrol clocked the man's car doing 115KM/H on the Mornington Peninsula Freeway in Dromana on his way to a 'car show.'
The man was told to get a full roadworthy certificate and was fined $343 plus a loss of three demerit points.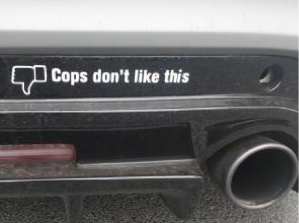 "If you intend modifying your car, please make sure the modifications do not take it outside of the standards for registration," a police spokesperson said.
"Driving within the speed limit is also a good idea."