It may not have crossed your mind as something you needed, but now you couldn't imagine your wedding without an alpaca.
Mioshi Park Alpacas are actually renting out their alpacas for your wedding and they are the cutest munchkins EVER!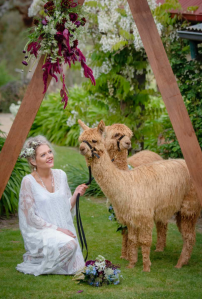 Do you plan on having a wedding without an alpaca?! Keep up lovebirds, this new 'Alpaca Wedding' trend will add some much-needed spice to your wedding.
Unfortunately for the brides, the attention may be pulled away from you because you know…alpaca at a wedding…but it's worth it because you know…alpaca at a wedding. But Mioshi Park has stated that 'they will try their best not to outshine the bride or guest of honour though.'
The alpacas can attend weddings as ring-bearers (adorable!), photo 'props', or just for general conversation. I'm sure they'd be full of banter. I hear the joke 'What to go on a picnic? Alpaca lunch' is a real crowd-pleaser.
The days of getting your adorable niece or nephew are gone, alpaca ring-bearers are IN. And I suppose if you really want, you could probably get the alpaca to walk you down the aisle.
Not only are they available for weddings, they're also available for other special events as Mioshi Park Alpacas stating, "the possibilities are endless".
Imagine walking into your surprise party and an alpaca's there. Epic.
Check out their wedding and special events package on their website here.
Want more? Listen to this best bit from Jonesy & Amanda!