Woolworths has today sent an email to some of their Rewards members with an offer of FREE HOT CHIPS!
The email states that members can head into their local supermarket and grab themselves a 140g pack of Birds Eye Golden Crunch Microwave Chips for $0!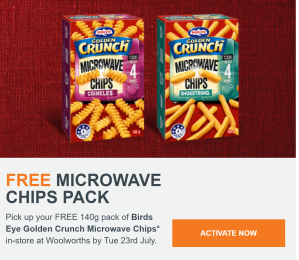 All you have to do is scan your rewards card at the till after scanning the product and the cost will be taken off your bill.
The offer has to be activated, with not all customers receiving the offer.
The promotion runs until Tuesday, July 23 and starts tomorrow (July 17th).
DELICIOUS!