Things got pretty heated in Fremantle on Saturday when a controversial Perth vegan activist zeroed-in on a group of children's entertainers at a family festival for dressing ponies up for children to ride.
Tash Peterson, 27, shouted at Ponies For any Occasion staff for 'enslaving' the ponies and accused them of 'animal abuse' while decorating them as unicorns at a festival on Saturday, all in front of visibly shocked children having pony rides.
Business owner Meg Freeman threatened to call security while imploring Peterson to leave. Police later showed up and told Peterson to move on.
One man could be heard telling Peterson's boyfriend, who was recording, that he didn't want his child being filmed.
View this post on Instagram
"'But they are treated like royalty!' is no different to a slave owner saying 'I treat my slaves well, therefore it is okay for me to use them for my own pleasure/profitable gain'," Peterson captioned a video of the incident posted to social media.
"Animals are not slaves, machines, food, objects, commodities or entertainment".
Her previous stunts include running onto the ground during the first AFLW derby at Optus Stadium, descending on a Bunnings sausage sizzle fundraiser by Perth firefighters on Australia Day, and wearing 'blood-spattered' clothing while holding a pig's head out the front of a shopping centre butcher shop (which led to the butcher fully clearing the counter to confront her).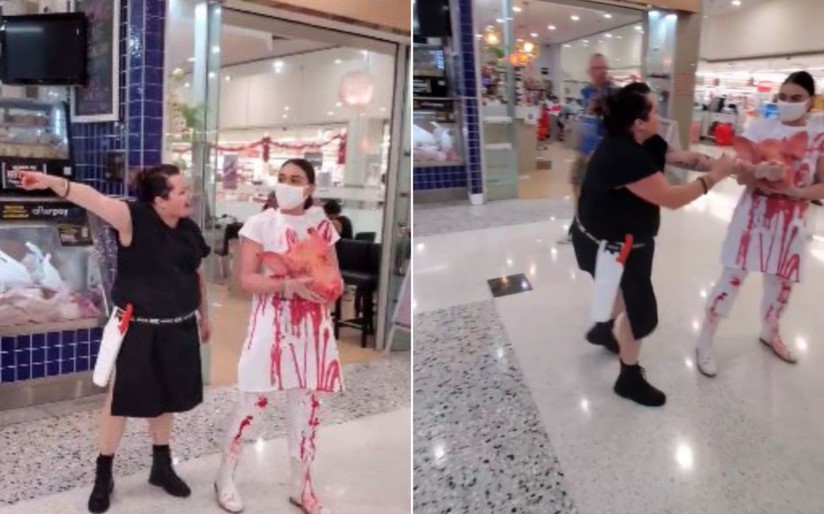 7News reported, however, that this was unplanned and came about after a day out to the beach with her boyfriend.
Ms Freeman told The West Australian her animals were rotated on a roster so they would go weeks without working.
Want more? Listen to this best bit from Jonesy & Amanda!