You might have noticed the headlines this week that 163 Year 12 Students at St Joseph's College in Hunters Hill were given access to the coveted Pfizer vaccination.
Elderly and frontline health workers are in dire need across the state for the jab as they endure higher risks of infection of COVID-19, so a group of 16-year-old boys sits right at the bottom of the list when it comes to risk.
The question being asked was… is this what privilege looks like?
NSW Health has released a statement explaining that the 163 jabs were done 'in error' but that doesn't seem good enough for the public.
Chief Executive of Sydney Local Health District, Dr Teresa Anderson has attempted to explain the error, "All Aboriginal people aged 16 to 49 years of age are eligible for COVID-19 vaccination, according to the Commonwealth government eligibility criteria as they have a higher risk of acquiring, and developing severe disease from, COVID-19."
"It was agreed that the Aboriginal students would be vaccinated through the state health system at Royal Prince Alfred Hospital's vaccination hub," Dr Anderson said."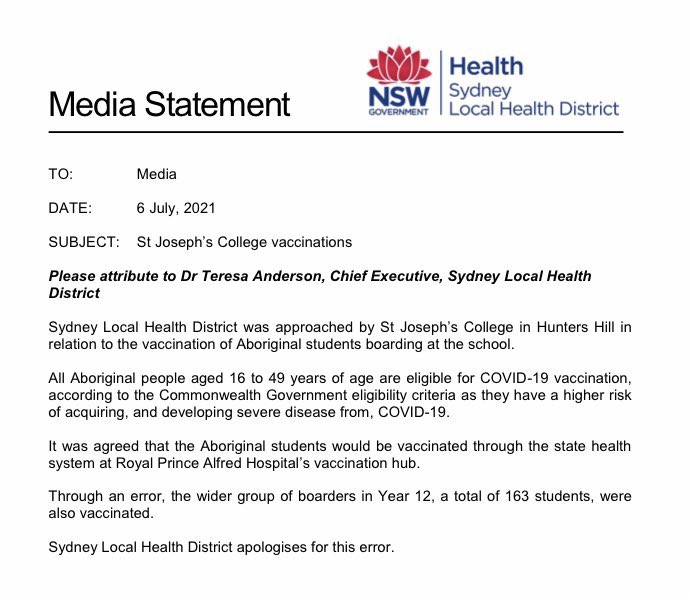 "Through an error, the wider group of boarders in year 12, a total of 163 students, were also vaccinated."
"Sydney Local Health District apologises for this error."
The Sydney Morning Herald's sources allege that the school only enquired about their indigenous students but NSW health encouraged and invited the borders to get vaccinated too.
Regardless of whether this 'error' was intentional or not, the public outcry has been filled in anger at the injustice of a group of private school boys being handed over a vaccine whilst people working in hospitals and the elderly are left dry.
Ah so we have to enrol at #stjosephs to get a Pfizer vaccine?!

— Rach (@Rach49535191) July 6, 2021
#StJosephs vaccination reeks of the kind of entitlement that is running rough shod all over this country. Unbelievable! #auspol #GoldStandard #gladys #nswlockdown #COVID19Aus #lnp

— frankdorsey69 (@frankdorsey69) July 6, 2021
#StJosephs #NSWHealth
How many more private schools have been given access despite front line workers having to wait?
Sorry doesn't cut it, this was planned and they should be ashamed but it's like water on a ducks back🤬 https://t.co/2wN37843zD

— Shantweets🐨🇦🇺😷🥑☕🕯️🐀 (@Shan11tweet) July 6, 2021
What sort of people run these schools who don't stop and think "Hang on, there are folk out there who need the vaccines more than we do? #WhitePrivilege #StJosephs

— Andrew Vivian (@Andrew_Vivian) July 6, 2021
Want more? Listen to this best bit from Jonesy & Amanda!