Nestlé, one of the most underrated chocolate brands, has announced that their Smarties are going fully recyclable in a move to reduce their impact of approximately 250 million plastic packs being sold each year.
This makes Nestlé the first confectionery brand to make the move to fully recyclable paper packaging.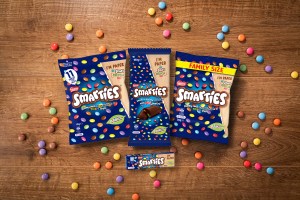 Nestlé General Manager Confectionery Chris O'Donnell said, "Shifting Smarties packaging to recyclable paper is an important step in realising Nestlé's ambition to reduce our use of virgin plastics by a third by 2025."
The Smarties we all know and love include single-serve cartons which were already in little paper boxes, share packs, bags and blocks. The new recycled look may change up their packaging on the outside, but don't worry because they have promised that Smarties lovers will find the same chocolate they know and love, with no artificial colours or flavours, and made with 100% sustainable cocoa since 2013.
Hear me out here, Nestlé chocolate is THE BEST CHOCOLATE. And now recycled packaging? I mean, they're clearly just the best in every aspect.
The paper used in the range is all sourced sustainably, including coated paper, paper labels, and carton board. The Australasian Recycling Label is included on all packs to raise consumer awareness and ensure Smarties fans know how to recycle the packs.
So now you can treat yourself to some Smarties and feel good about devouring an entire block of chocolate in one sitting knowing it's all recyclable.
Want more? Listen to this best bit from Jonesy & Amanda!