The recent revival of Golden Gaytime Ice Cream in a tub has left us feeling seriously nostalgic for the OG ice creams of our childhood.
We've compiled a list of some of our absolute favourites that have sadly been discontinued. You'll definitely remember some of these fondly…
streets slick stick
These were edged out of the game by Peters Icy Pole. Rad Rasberry and Lush Lemonade, we miss you dearly.
the cool shark

These were WAY better than your average icy pole. The combination of blue lemonade and creaming soda was a next level taste sensation during the eighties.

PADDLE POP MUD PUDDLE AND THICK SHAKE
How much better would Australia Day be with these on board? These cheap and cheerful 90's Streets ice-creams were the BEST. The chocolate flavour was on a whole other level. Can we get these back ASAP?
CALIPPO SHOTS
They're technically not Australian, but they were sold on our shores and they were BAD ASS. These still exist overseas.
smurfee
These cutie treats were a spin-off from the cartoon The Smurfs and were released in 1979. We all learnt the hard way that it was seriously difficult to get to the blue colouring out of our clothes.
funny feet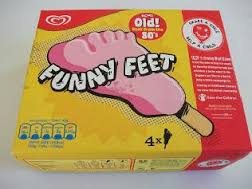 Although the idea of a foot shaped ice cream may be enough to make some people ask 'WHY?!', these strawberry-flavoured treats were popular during the 1980's. Word on the street is that they're available in the UK again.
peters hazelnut roll
These choc coated vanilla and hazelnut flavoured ice creams tasted like NUTELLA, and how could you not love that?
Did we miss any of your discontinued favourites? Tell us your favourite in the comments section below…
Source: Herald Sun
Want more? Listen to this best bit from Jonesy & Amanda!