With talk of both the spread of the COVID-19 virus and its knock-on effects dominating seemingly all conversations, one pub has grown sick of it.
The Marree Hotel in South Australia posted on Facebook that there would be "no coronavirus talk" in the front bar, with a $2 fine to any offending punter.
But patrons who make the mistake of mentioning the virus need not feel too bad, with all cash raised going to a good cause.
The pub will donate any money in the "COVID-19 Jar" to the Royal Flying Doctor Service, which provides medical help to rural areas throughout Australia.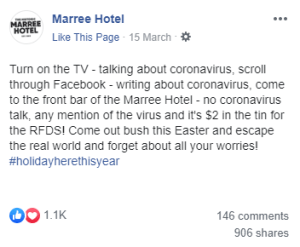 People on Facebook have thrown their support behind the idea, too.
One commenter wrote "Marree Pub you've won the internet for this week if I'm judging", with another labelling it a "fabulous idea".
The Facebook post was captioned with the hashtag #holidayherethisyear, urging people to continue supporting the local tourism industry, where possible.
Want more? Listen to this best bit from Jonesy & Amanda!