An Australian mother has warned Kmart shoppers about a set of solar-powered lights after they exploded and severely burnt a wall outside her home.
The woman from Queensland, took to Facebook to share the photos that reveal the damage caused by the explosion.
Nobody was hurt in the explosion and her neighbours managed to extinguish the flames.
'Thank God for neighbours or things could have been a lot worse," she captioned her post."Solar panel on Xmas lights exploded. Bought them from Kmart approx (sic) 3 weeks ago.
"Will be notifying the store I brought them from tomorrow."
Kmart is selling the Anko branded solar-powered LED multi-coloured lights for $34 for a 500 pack.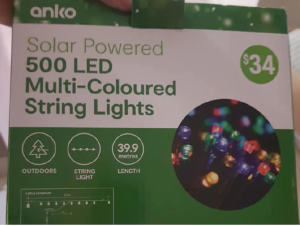 The warning prompted one user to say "My husband's just gone to take ours down."
A Kmart spokesperson said the retailer had reached out to the customer to offer support as part of a commitment to ensuring all product are "fully compliant with regulations and safety standards'.
"At Kmart Australia safety is our number one priority and we are committed to ensuring the products we sell are fully compliant with regulations and safety standards,' the spokesperson said.
"We have reached out to the customer to offer support and conduct a review of their case."