If you're one of those people who start asking if it's too early to set the Christmas tree up like this weekend, science reckons you're probably just eccentric happier than the rest of us.
In fact, and I'm not even kidding here, some keen beans refer to this time of the year as the "Christmas Preseason".
This popped up on Reddit's Christmas thread (now that place is heckin' happy) on September 1: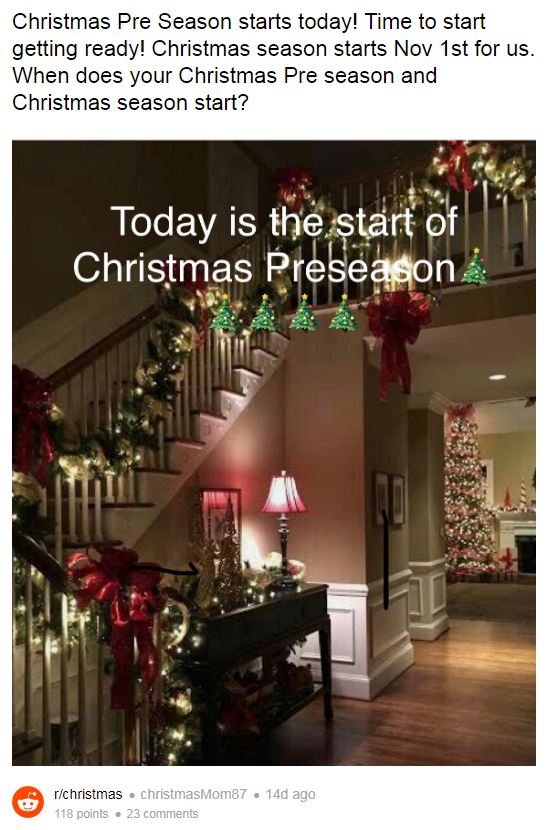 But back to the happiness thing.
Psychoanalyst Steve McKeown told Ladbible that in "a world full of stress and anxiety," people like to associate to things that make them happy, and it seems that Chrissie deccos stirs up these strong happy feelings.
"Although there could be a number of symptomatic reasons why someone would want to obsessively put up decorations early, most commonly for nostalgic reasons either to relive the magic or to compensate for past neglect."
Psychotherapist Amy Molin agreed, that Christmas decorations can take you back to a simpler time.
"Nostalgia helps link people to their personal past, and it helps people understand their identity. For many, putting up Christmas decorations early is a way for them to reconnect with their childhoods.
Even more proof was a study by the Journal of Environmental Psychology, which found that, when looked at by strangers, homes decorated for the Christmas season made their residents, and there neighbourhoods, appeared more "friendly and cohesive" compared to non-decorated homes.
So, if you want to put your Christmas wreath up or wear your flashing Chrissie earrings before Halloween has even hit, go ahead, you happy camper you.