ALDI is set to bring back on of its most popular special buys this week and oh my, it's so cheap!
That's right, the Mistral Thermo Cooker, a great sub-in for your thermometer, is on special buys this weekend, starting Saturday, April 18th.
Shoppers will be able to get their hand on the unit for just $299!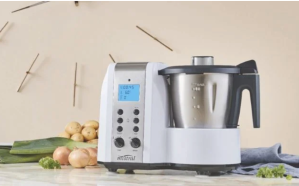 The all-in-one appliance comes with a two-litre stainless bowl, 10-speed mixing, 1000W heating power and an 800W motor.
Not a lot of that makes sense but it does say it 'blends, chops, crushes ice, steams, stews, mixes, kneads and fries'.
So, that's all we needed to know.
Want more? Listen to this best bit from Jonesy & Amanda!