Fiona Dillon didn't realise what rushing out of the supermarket would cost her.
The Adelaide mum accidentally left her iPhone 6 at the self-service checkout, and when she got to her car and realised the phone was gone, she was devastated.
Her anguish was due to the fact that this phone wasn't just any phone. It held hundreds of precious photos of her stillborn son, Owen and his funeral.
Dillon, who is a mother to one-year-old Olive, took to Facebook to try and recover her phone.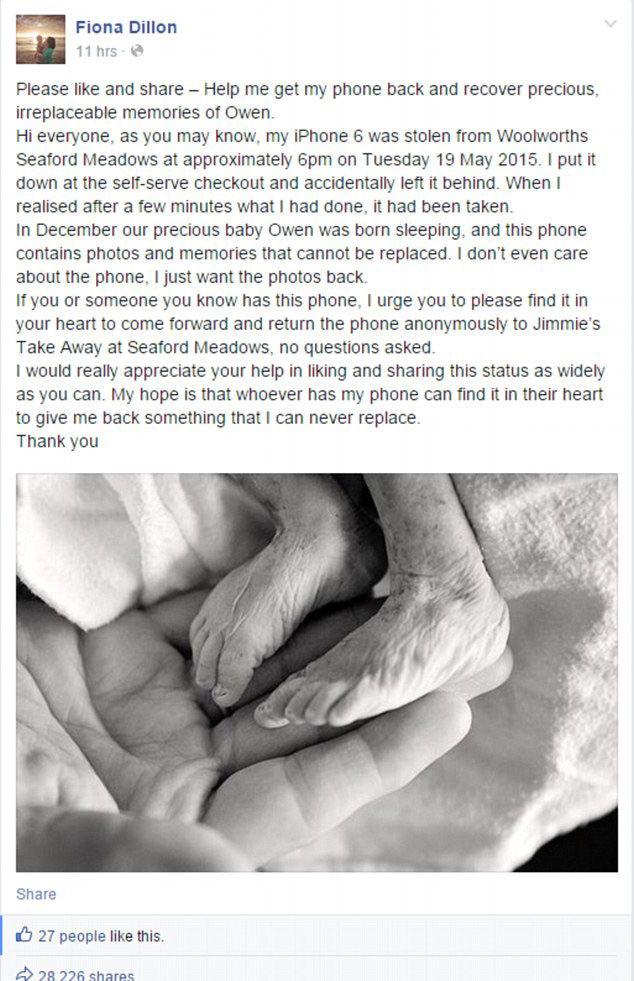 Dillon was shopping at Woolworths Seaford Meadows south of Adelaide at around 6pm.
'I was just picking up a couple of things for dinner so I was in a bit of a rush,' she said.
'I only realised I had left my phone at the self-service checkout when I got to the car and went straight back to the store but my phone wasn't there.'
According to a report on the Daily Mail, Dillon bought the iPhone about five months ago, so she could take photos of her son, but now holds private images of the moments she spent with her stillborn son and photos taken at his funeral.
'The phone would be useless to the person who has it because it's locked,' Ms Dillon said.
'But to be honest, I don't care about the phone itself because I just want the photos back. I can't replace the photos I have of Owen.
'I spent three days with him after he died so the time I spent with him was all captured on my phone. It just has so much personal and sentimental value to me.'
Source: Daily Mail
Want more? Listen to this best bit from Jonesy & Amanda!