Hollywood actor Mickey Rourke has left the world shocked after appearing on UK morning show Good Morning Britain.
The 66-year-old spoke to hosts Susanna Reid and Piers Morgan on a video-link with a dog on his lap.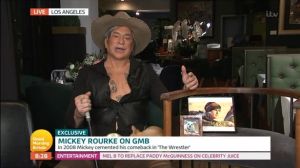 I wondered why Mickey Rourke was trending and after catching his toe-curling #GMB interview, now I know. pic.twitter.com/7d97XIUwgg

— Lorna Cooper🏴󠁧󠁢󠁥󠁮󠁧󠁿🇯🇲🇬🇾 (@Coops_tv) September 2, 2019
But viewers went straight to Twitter in confusion over who they were watching.
One person said : "#GMB who even was that?? He didn't look anything like Mickey Rourke."
Okay, so Mickey Rourke looks very different in his appearance on GMB. Is there really any need to take the mick (no pun intended) out of him and call him such disgusting slurs like 'freak'? Grow up, for goodness sakes. It's his body, not yours.

— Adèle Mellish (@thatbrendanfan) September 2, 2019
Another said "Well. Sounds like Micky Rourke. Doesn't look like him what on earth as he done #GMB."
A third wrote: "Wow he looks different #gmb."
Others called for people to stop bullying the star but it has left Rourke trending on Twitter on the UK.
Want more? Listen to this best bit from Jonesy & Amanda!