Sunrise co-host Samantha Armytage is no stranger to having her name appear in the tabloids and it seems she's officially had enough.
Taking to Instagram this morning, the Channel 7 breakfast host posted a statement slamming various publications for making up stories about her and quoting fake sources, before later deleting the post.
In the the post she called the stories "rubbish 'journalism'" and claimed that publishing these stories should be "illegal".
"The silliness in the tabloids around my private life has now reached peak stupidity," Sam wrote in the post.
"I ask you all to ignore (& not buy!!) Woman's Day, the Daily Mail & The Sunday Telegraph," she continued. "The 'sources' quoted are made-up. It's rubbish 'journalism' & should be illegal."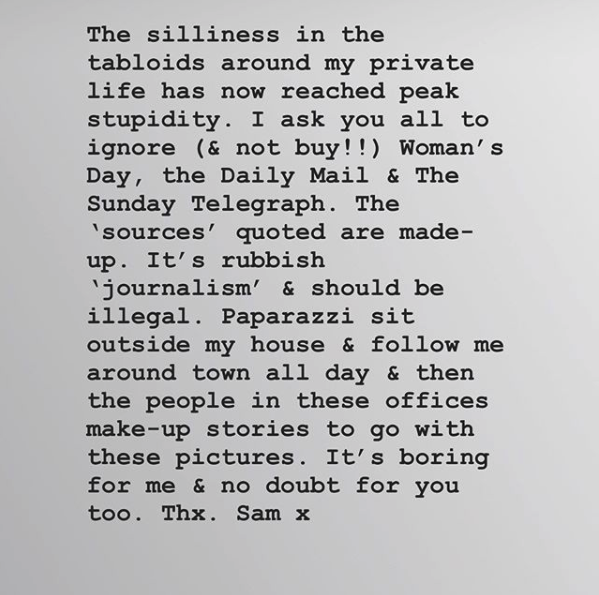 Samantha also claimed that the paparazzi don't leave her alone, constantly taking photos of her to go with their fabricated stories.
"Paparazzi sit outside my house & follow me around town all day & then the people in these offices make-up stories to go with these pictures. It's boring for me & no doubt for you too. Thx. Sam x."
She reiterated her message to the tabloids in the caption of the post, telling people not to buy into these stories.
"Don't buy it. Don't read it," she wrote. "And NO, I'm not promoting the keto diet (whatever that is.) And NO I'm not flogging face cream on Facebook.
"If you don't hear it from me, don't believe it. Sam xxx (PS not asking for sympathy, just setting the record straight!)"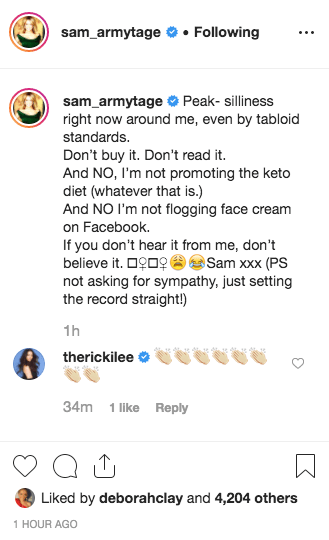 The post was quickly flooded with comments of support form other celebrities and fans of the Channel Seven reporter.
Ricki-Lee posted a bunch of clapping emojis in the comments section while one fan wrote, "Love you Sam. Just ignore them love x".
The post has since been deleted, however, there is still a similar comment up on her Instagram Story.