Costumes and props worn by Hollywood star Sylvester Stallone in the box-office smash hit Rocky and Rambo movies went on public view in New York.
Die-hard fans with deep pockets can snap up more than a thousand pieces of Stallone memorabilia at auction in Los Angeles in December.
The auction will help benefit veterans charities.
The top valued items are Rocky Balboa's boxing gloves and championship belt from Rocky II, and could each fetch a whopping $US500,000 ($A688,373.37), according to Heritage Auctions.
Other highlights are the character's leather jacket from Rocky, the 1976 film that won three Oscars and propelled Stallone to international stardom.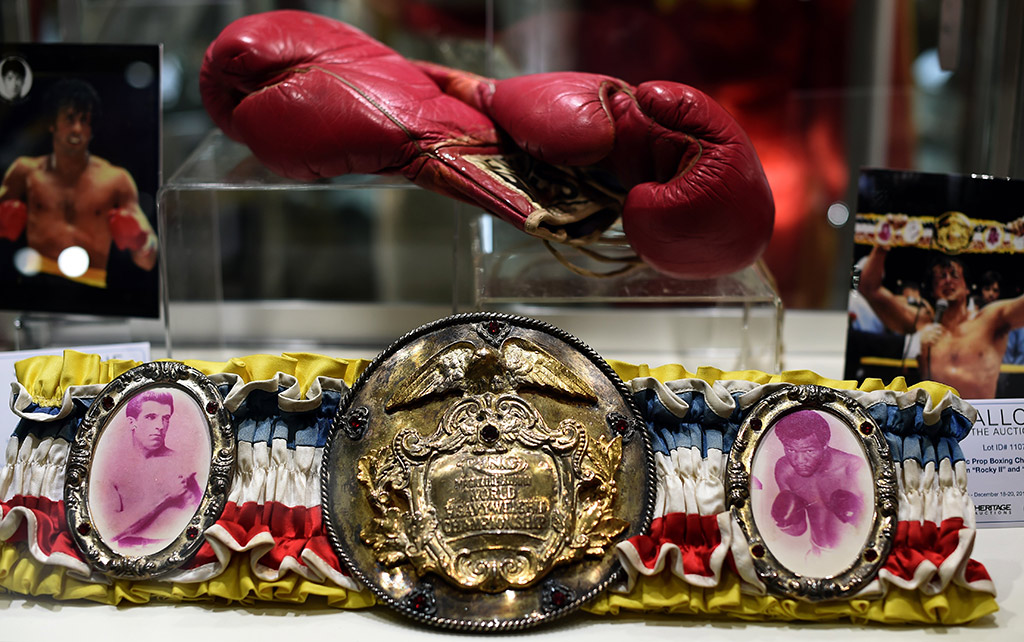 There's also the white robe from Rocky IV.
Among the lots is Stallone's handwritten script for Rocky, his character, John Rambo's army jacket from First Blood and a Judge Dredd costume, including helmet, boots and shoulder armour.
Top lots from the sale will remain on view in New York until Wednesday before being offered for sale from December 18-20 in Los Angeles, Heritage Auctions announced.
The New York-born Stallone is an Academy-award nominated actor best known for his tough guy roles in the Rocky and Rambo franchises.
The 69-year-old is also a director and screenwriter.
"I thought other people would really appreciate them. So, rather than keep them in the dark (in storage) and just forget about them, I thought, let me just pass them on," he told Heritage.
Besides the Rocky and Rambo screen worn items, there's lots containing memorabilia from the The Expendables' movies.
AAP
Want more? Listen to this best bit from Jonesy & Amanda!