Led Zeppelin frontman Robert Plant has finally pocketed the £10 fee he was owed for playing a gig more than 40 years ago.
The cash was handed over by Rod MacSween, one of the world's most successful agents, at a ceremony held by the University of Exeter where MacSween was awarded an honorary degree.
The university reported that MacSween was a student there in the '60s and was elected as the Students' Guild social secretary in 1969.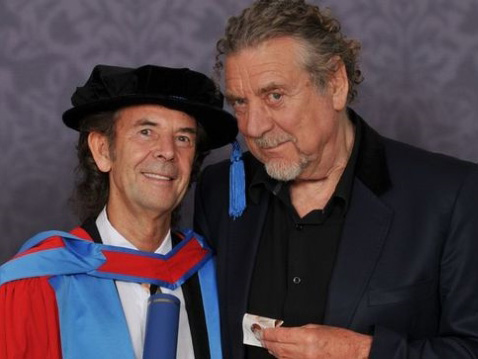 "During that time, he booked artists who were in their early musical careers like Pink Floyd and Robert Plant's Band of Joy," it read.
MacSween now personally represents Aerosmith, Black Sabbath, Def Leppard, Guns N' Roses, Kiss, Lenny Kravitz, Maroon 5, Ozzy Osbourne, Pearl Jam, Scorpions, Tool and The Who.
During his speech, he joked he had still hadn't paid Plant for a concert he played in the 1970s, and offered him a £10 note (about $18 in Aussie bucks), which he came on stage to collect.
Plant joked it wasn't enough.
Want more? Listen to this best bit from Jonesy & Amanda!