When we were a kid we remember that the best part about the lead up to the Easter Show each year was planning which showbags we were going to beg our parents for.
From our favourite TV shows, to magazines to lollies, there was always a select handful of showbags that we knew we would just go crazy if we didn't get our hands on them.
And honestly, we didn't think that we would ever get this kid-like feeling again until we heard about one of the bags heading to the showbag pavilion at the Easter Show this year…
It's a FRIENDS themed showbag! And honestly, could it BE any cooler? (The correct answer is no, it couldn't)
Coming in at just $28 this showboat is filled to the brim with FRIENDS related memorabilia, including a keychain, socks, cooler bag and even a duffle bag!
Just make sure when you're packing that boy for a trip you don't squish your shampoo and moisturiser "ALL OVER EVERYTHING" like Ross did… Learn from his shampoo explosion mistake!
The FRIENDS showbag is worth about $102 in retail value and you can find it's full contents below:
1x Friends Travel Mug
1x Friends Badges
1x Friends Coasters
1x Friends Iron On Transfer
1x Friends Notebook
1x Friends Pencil Case
1x Friends Pen Set
1x Friends Non Woven Bag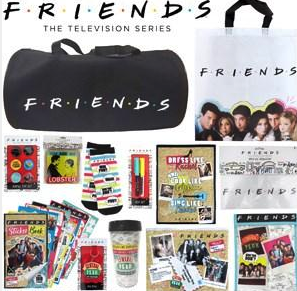 The FRIENDS Showbag will be available while stocks last from the Grand Parade & Olympic Boulevard showbag stands throughout the show!
The Easter Show is on from April 3-14 and you can win your FREE tickets on WSFM!
Want more? Listen to this best bit from Jonesy & Amanda!