Today, July 13, marks the 36th anniversary of Live Aid.
The 16-hour "super concert" featured more than 75 acts, including Queen, Run DMC, Paul McCartney, Madonna and Elton John, to raise money for the relief of famine-stricken countries of Africa.
The acts were performed on two stages: Wembley Stadium in London and JFK Stadium in Philadelphia, where more than 150,000 watched in-person.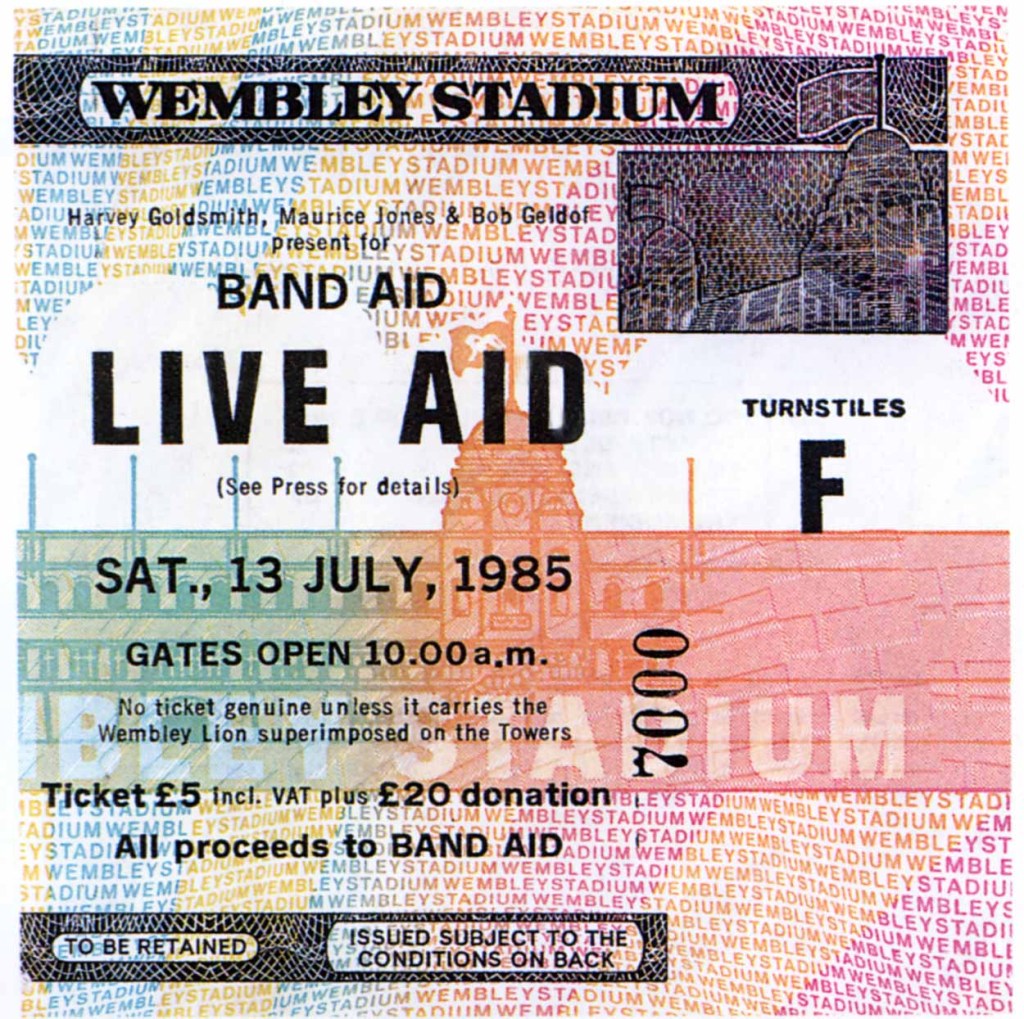 However, 13 satellites, beamed the broadcast live to TVs and radios across the globe – one of the largest-scale broadcasts of all time – with an estimated audience of 1.9 billion, across 150 nations.
It was the brainchild of Bob Geldof, who was spurred into action after seeing a BBC report in 1984 that featured footage of starving children. His first thought was to release a charity single, which he did just weeks later with 'Do They Know It's Christmas'.
It reached No. 1 on the UK charts and raised more than $28 million.
But for Geldof, it wasn't enough.
So, he took the next obvious step – he planned a concert.
"The show should be as big as is humanly possible," Geldof said at the time.
"There's no point just 5,000 fans turning up at Wembley; we need to have Wembley linked with Madison Square Gardens, and the whole show to be televised worldwide.
"It would be great for Duran to play three or four numbers at Wembley, and then flick to Madison Square where Springsteen would be playing.
"While he's on, the Wembley stage could be made ready for the next British act like the Thompsons or whoever.
"In that way, lots of acts could be featured and the television rights, tickets and so on could raise a phenomenal amount of money.
"It's not an impossible idea, and certainly one worth exploiting."
I mean, not only did he secure both Wembley Stadium and John F. Kennedy Stadium, he booked the music industry's biggest heavyweights.
Live Aid 1985: full bill
('P' is Philadelphia, 'L' is London, times are approximate)
Status Quo (London, 12 noon)
Style Council
Boomtown Rats
Adam Ant
INXS (They weren't physically there but part of their Oz for Africa gig, which took place on the same day, was broadcast from the London stage)
Ultravox
Loudness
Spandau Ballet
(Philly begins at this point)
P – Joan Baez (Philly 9am/London 2pm)
L – Elvis Costello
P – The Hooters
Opus (from Vienna)
L – Nik Kershaw
P – The Four Tops
B.B. King (from The Hague)
P – Billy Ocean
P – Ozzy Osbourne
P – Run DMC (Philly 10.15am /3.15pm London)
Yu Rock Mission (from Belgrade)
L – Sade
L – Sting (3.15pm London/10.15am Philly) (same as Run DMC)
P – Rick Springfield
L – Phil Collins
P – REO Speedwagon
L – Howard Jones
Autograph (from Moscow)
L – Bryan Ferry (4.10pm London/11.10am in Philly)
P – Crosby, Stills, Nash, & Young
Udo Lindenburgh (from Cologne)
P – Judas Priest (Philly 11.26am/4.26pm in London)
L – Paul Young (London 4.40pm/11.40am in Philly)
L – Bob Geldof welcomes America (5pm in London/noon in Philly)
P – Bryan Adams (12.02pm in Philly/5.02pm in London)
L – U2 (5.20pm in London/12.20pm in Philly)
P – The Beach Boys (12.40pm in Philly/5.40pm in London)
L – Dire Straits/Sting (6pm in London/1pm in Philly)
P – George Thorogood/Bo Diddley/Albert Collins
L – Queen (6.44pm in London/1.44pm in Philly)
David Bowie/Mick Jagger (on video)
P – Simple Minds
L – David Bowie
P – The Pretenders
L – The Who (8pm in London/3pm in Philly)
P – Santana w/Pat Metheny
L – Elton John
P – Ashford & Simpson w/T. Prendergrass
L – Elton John and Kiki Dee (9.05pm in London/4.05pm in Philly)
L – Elton John, Kiki Dee, and Wham!
P – Madonna
L – Mercury and May
L – Paul McCartney
L – McCartney, Bowie, Townshend, Moyet, and Geldof
L – UK Finale (9.56pm in London/4.56pm in Philly)
The rest are all in Philly
Tom Petty (5.14pm)
Kenny Loggins
The Cars
Neil Young (6.07pm)
The Power Station
The Thompson Twins
Eric Clapton (7.39pm)
Phil Collins (this is no joke, after performing Against All Odds and In The Air Tonight, plus a duet with Sting at Wembley Stadium, Phil Collins hopped the Concorde to the US, picking up the sticks for Led Zeppelin at the Philadelphia concert.)
Plant, Page, and Jones (8.13pm)
Duran Duran
Patti LaBelle
Hall & Oates w/Eddie Kendrick and David Ruffin
Mick Jagger (10.15pm)
Jagger and Tina Turner
Bob Dylan/Keith Richard/Ron Wood (10.39pm)
US Finale (10.55pm)
Live Aid raised about £50 million ($A104 million) on the day and about £150 million ($A312 million) in the decades since the event from merchandise sales.