Cynthia Albritton, the groupie known for taking plaster moulds of famous rock stars' penises, has died.
Cynthia 'Plaster Caster' stumbled into her hobby while in college in Chicago after her art teacher rolled out an assignment to the class.
"My art teacher told me to make a plaster cast as my homework assignment of something that could retain its shape. Something solid," she recalled to Rock Scene magazine in 2012.
As a "shy, fledgling, virginal goofy girl that wanted to get laid by cute British boys with long hair and tight pants," Albritton had an idea.
"I'd heard through the grapevine that penises got solid, although I had yet to see that happen," the then-inexperienced-but-curious Albritton said.
She found a volunteer pretty quickly.
"I took up the subject with Mark Lindsay of Paul Revere and the Raiders, who was in town that very night," she continued.
"And he was happy to help me with my homework assignment, except that the material my art teacher told me to use to make the negative impression was sand and water, which was not gonna be conducive to a solid state of penis. But that's okay, not important. More importantly, I lost my virginity to Mark Lindsay just as a result of talking about it."
What kicked off was a cross between groupie fandom and experimental art that spanned decades, attracting the name Cynthia 'Plaster Caster'.
Among her famous casts were Jimi Hendrix, Gene Simmons, the Buzzcocks' Pete Shelley, and Dead Kennedys frontman Jello Biafra.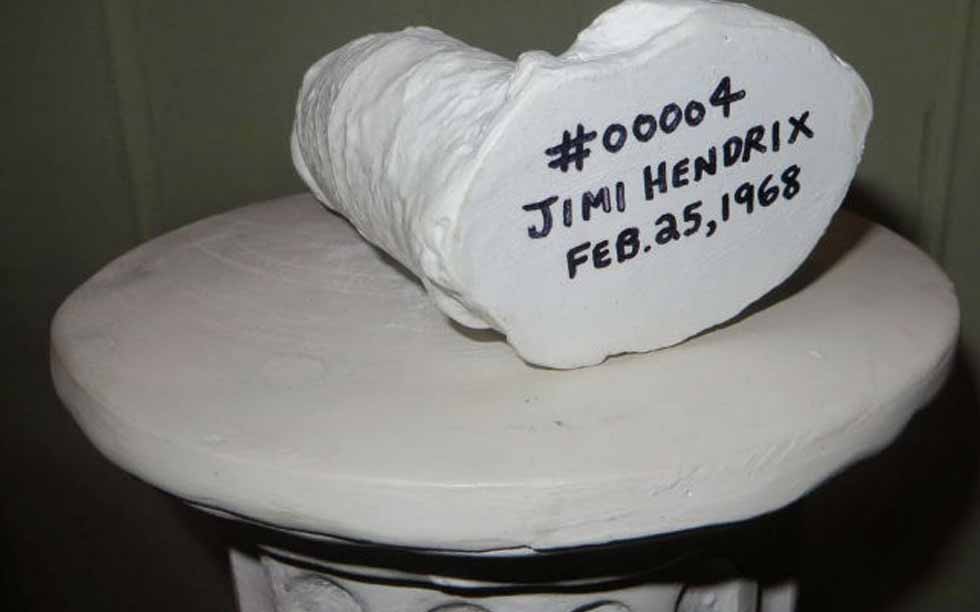 After her apartment was robbed in 1971, Albritton agreed to give the casts to Frank Zappa's business partner, Herb Cohen, for safekeeping. (Zappa was a friend and not one of her subjects.)
But in an odd turn of events, Cohen refused to give them back.
The situation ended up in court, with Albritton eventually recouping all but three of her casts.
Homages to her work include the KISS song 'Plaster Caster', which included the line: "The plaster's gettin' harder / And my love is perfection / A token of my love / For her collection, her collection."
Jim Croce's track "Five Short Minutes" was also inspired by Albritton: "Well, like a fool in a hurry I took her to my room / She casted me in plaster while I sang her a tune."
Her collection grew to more than 100 pieces, with filmmakers and artists added into the mix. Later in her career, Albritton made casts of female rock stars breasts.
"I don't like to play favourites," Albritton once admitted of her famous bits.
"I love them all. And all the experiences were equally exciting and weird and different from each other."
She was 74.