Miranda Kerr has chucked a Gwyneth Paltrow by promoting a 'Virus Protection' guide by Anthony William, a self proclaimed 'medical medium'.
His advice? Celery.
Yes, he's pretty much started a celery movement, and thinks that celery juice is the greatest healing tonic of all time.
https://www.instagram.com/p/B9rxfO3ni1m/
It's also important to note that William has no medical qualifications and says his celery movement and advice comes from "communication with gods".
Dr Joshua Wolrich, a surgical doctor and nutritionist, has commented on the post absolutely blasting Miranda for promoting false information.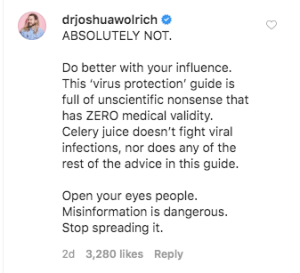 He even posted a video on his own feed combatting the celery movement.
Want more? Listen to this best bit from Jonesy & Amanda!