LANGUAGE WARNING!
This week on Married At First Sight saw our first couple leave the experiment and quite unexpectedly at that!
Poppy and Luke broke up, if you can even call it that, after Poppy decided to leave the experiment.
LISTEN TO THE FULL STORY:
The way that it played out on screen basically saw Poppy packing a bag while a voiceover said something along the lines of "Poppy has decided to leave the experiment". It then showed a producer go break the news to Luke, saying that he has to leave because Poppy has called it quits.
Basically all of Australia was left heartbroken for Luke who had actual tears when he learned of Poppy's departure, and of course viewers were upset with the way Poppy apparently handled the situation.
But Poppy is having NONE of it! She has since come out swinging in a Facebook post that not only claimed that terrible editing didn't show us the true story (which we know obviously happens a lot on shows like MAFS) but she also made some serious claims about her ex-hubby Luke.
While we were made to believe that Poppy wanted to leave the experiment because she missed her kids too much, Poppy has claimed that Luke is not actually the loveable guy that we all think he is.
The claims were made in a lengthy post to Facebook that has since been deleted, but thankfully screenshots are here to last a lifetime.
"I'm obviously being hammered by media and trolls right now. I haven't watched the show, I refuse to," Poppy began in the post.
"I understand people are reacting to what they see on tv but they see 1% of what actually goes on in the show. A commitment ceremony for example goes for 15 hours, you see one hour.
"Our honeymoon was 4 days, they showed 6 minutes!"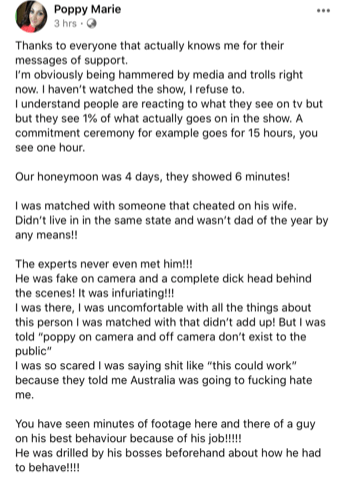 Her attention then turned to Luke, making some serious allegations about his character and even claimed that the experts didn't put any effort into their match. She even made the grand claim that Luke had been unfaithful in his previous marriage.
"I was matched with someone that cheated on his wife," Poppy claimed in the post. "didn't live in the same state and wasn't dad of the year by any means!!
"The experts never met him!!! He was fake on camera and a complete dick head behind the scenes! It was infuriating!!!"
Poppy says that she felt uncomfortable being around her onscreen husband but she didn't say anything because producers allegedly told her that she would come across badly to the public.
"I was there, I was uncomfortable with all things about this person I was matched with that didn't add up! But I was told 'poppy on camera and off camera don't exist to the public'.
"I was so scared I was saying sh*t like 'this could work' because they told me Australia was going to f*cking hate me."
She claims that her true personality never came out during the episodes because what she was saying was "too controversial" and so instead they just played parts where she was crying over her kids.
"I'd probably hate me too! From what I heard that's all they play of me."
She ended the lengthy post by claiming that Luke wasn't really crying over her leaving the show, but over the fact that he was scared she would tell the truth to the public about their relationship.
She also claimed that she wouldn't be silenced any longer. But the post has since been deleted.
So yeah our minds are basically blown right now. What on earth was going on behind closed doors and off camera here?
Of course we have no proof of what Poppy is claiming is true as we didn't get to see this apparent side of Luke on screen, but in terms of the producers and editing, it's certainly not the first time we've heard about some serious manipulation.
If what Poppy is saying is completely true, will she actually come out and explain what happened?
We have since reached out to Channel Nine for comment and they provided us with a statement saying that they have reached out to Poppy.
"We have seen Poppy's post and note her distress," the statement from Nine and Endemol Shine Australia reads.
"We have reached out to her to offer support and won't be making any further public comment, and will focus on doing out best to support both Poppy and Luke."
Want more? Listen to this best bit from Jonesy & Amanda!