In case we weren't already excited for the Married At First Sight reunion episode, especially seeing as we're all stuck in self-isolation, this season's resident villain Michael Goonan is teasing a lot of drama.
In the comments section of a post her put up on Instagram *cough* producers put up *cough* after his final vows on the show, Michael has said that the "facts" will come out during the reunion and even said there will be a "lie detector test" involved.
The post itself was a series of photos of Michael and Stacey, that had CLEARLY been posted by someone other than Michael. We mean, it was even written in third person.
"And just like that Michael found his happily ever after and skipped into the sunset," the caption read.
While yes, Michael and Stacey agreed to stay together at the time on the show, we all know better, and know that they've since had a pretty nasty split.
And so of course people were very quick to take to the comments section of the post, basically roasting the crap out of Michael.
"Then straight into KC," wrote one person, referencing his rumoured relationship with intruder bride KC.
"Then divorced lol," said another.
"Can't half tell the show controls your insta," added someone else.
And so Michael, the real Michael, not a filtered through a MAFS producer, took to the comments too to let loose and tell all.
"Wow iv (sic) just caught up haha. Some of these comments are brilliant, some are a little rough but still very amusing to read!," Michael said.
"Righto team none of you are stupid… you don't need to be a cluedo genius to figure out if my relationship worked… however out of respect for the contract I signed, and respect for the hard work the production team put into creating this show… for all you the viewers, I won't be joining the team of spoilers.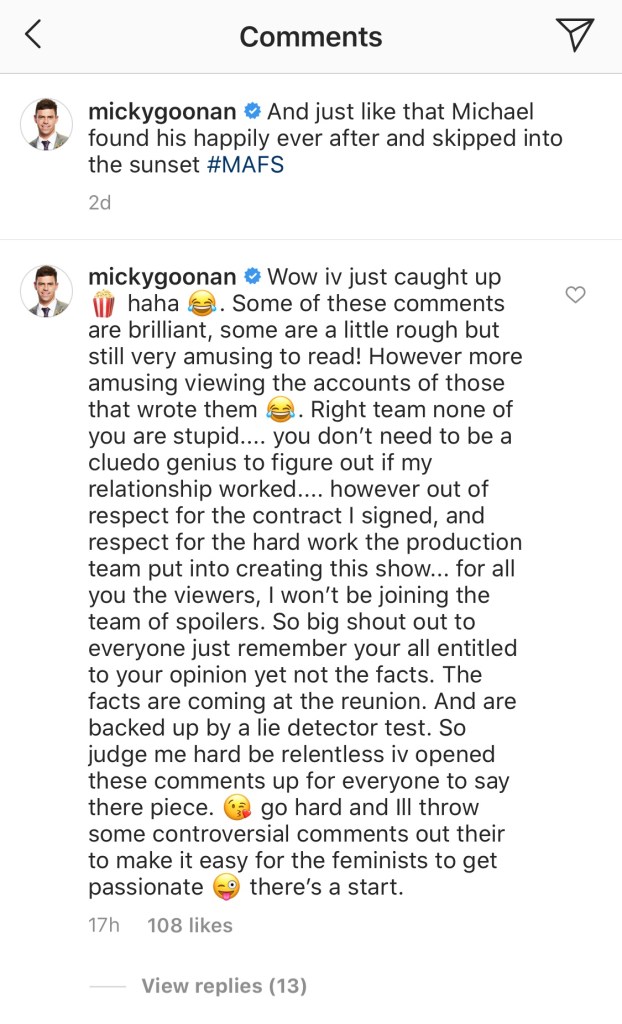 "The facts are coming at the reunion," he added. "And are backed up by a lie detector test."
What facts is he referring to exactly? The facts about what happened with him and Hayley? His rumoured relationship with KC? The rumours that Stacey also cheated?
Either way, we think this is going to be one drama filled reunion episode!
It all kicks off tonight with the reunion dinner party and then the reunion with the exports on Sunday night! Bring it on!
Don't believe us? Check out the latest teaser for tonight below!
Click 'PLAY' below for Jonesy & Amanda's take on MAFS:
Want more? Listen to this best bit from Jonesy & Amanda!