One of the couples that we don't have high hopes for on this season of Married At First Sight so far is the lesbian couple, Amanda Micallef and Tash Herz.
While their constant bickering on screen is one thing, the pair are also going head to head on socials with Amanda calling out her on-screen bride for being "fake" and questioning her intentions for going on MAFS.
But now fans are questioning Amanda's intentions for going on the reality TV show after her acting profile has been discovered online.
Posting to the Facebook Group Married At First Sight 2020 Unfiltered, one fan took screenshots of Amanda's profile on the talent website Star Now.
"If you're going to encourage people to bully someone and tell them they had fake intentions…maybe delete your 'Star Now' profile," the fan wrote.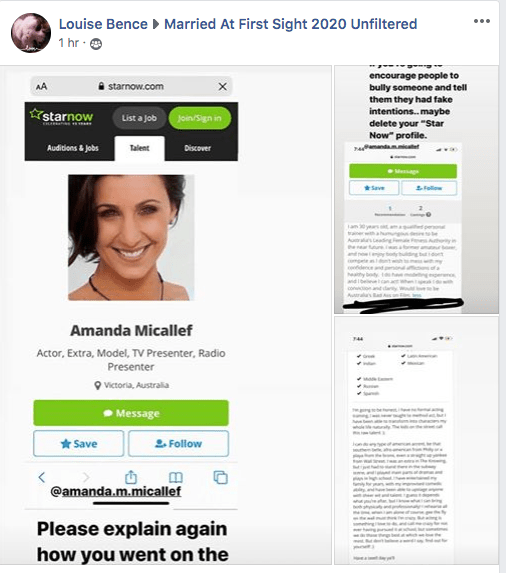 Amanda's profile on the talent website lists her as an actor, extra, model, tv presenter and radio presenter".
In her profile she writes, "I am 30 years old, am a qualified personal trainer with a humungous desire to be Australia's Leading Female Fitness Authority in the near future," her profile states.
"I do have modelling experience and I believe I can act! When I speak I do with conviction and clarity. Would love to be Australia's Bad Ass on Film."
Her profile also states that she's had experience as an acting extra and can pull off numerous accents, including Isish, UK English, French, German, Italian and more.
While she states she's never had formal acting training she claims that she has "raw talent" and has been able to "transform into characters my whole life naturally".
It's certainly not the first time that a Married At First Sight contestant has been uncovered as an aspiring actor, and it certainly won't be the last time either.
But of course it does give Amanda less of a leg to stand on when it comes to calling out her on screen wife Tash's intentions…
Want more? Listen to this best bit from Jonesy & Amanda!