US President Donald Trump isn't just copping some major criticism for not wearing a face mask during a factory tour, there's also some raised eyebrows over the music which played over the PA system.
The president wore safety glasses but not a face mask while visiting a factory in Arizona which, not only displayed signs warning that masks were mandatory, the factory manufactured face masks.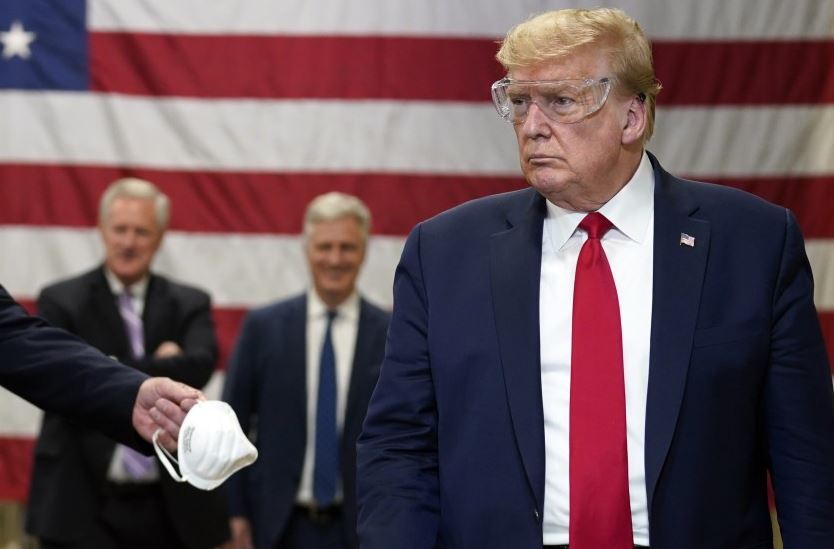 That aside, the PA system in the factory was pumping out Guns N' Roses' version of 'Live and Let Die' at high volume.
They are also, somewhat inappropriately, blasting 'Live and let die' over the factory sound system pic.twitter.com/A11qkUla2F

— Zach Purser Brown (@zachjourno) May 5, 2020
The music being played during the visit seemed to have been chosen by Trump's team as the track also features at many of his political rallies.
That President Trump mask factory visit playlist in full:

-Gloria, Laura Branigan
-House of the Rising Sun
-𝗟𝗶𝘃𝗲 𝗮𝗻𝗱 𝗟𝗲𝘁 𝗗𝗶𝗲
-Tiny Dancer
-Eye of the Tiger, Survivor
-God Bless The USA, Lee Greenwood

— Zach Purser Brown (@zachjourno) May 5, 2020
Late-night TV host Jimmy Kimmel tweeted, "I can think of no better metaphor for this presidency than Donald Trump not wearing a face mask to a face-mask factory while the song 'Live and Let Die' blares in the background."
While Gunner's frontman Axl Rose hasn't commented on the playing their version of 'Live and Let Die' during the factory visit, only last week he expressed frustration at the number of people who appeared to be flouting lockdown rules and seemingly getting away with it.
Q: If the Sheriffs can choose not to enforce the beach closures can the hospitals "choose" not to admit any possible Covid-19 suspected beach goers? Just askin'…🤔

— Axl Rose (@axlrose) May 2, 2020
Paul McCartney, who originally penned the track for Wings in 1973, has not commented but has previously referred to Trump as 'that mad captain'. So we can't imagine he'd be thrilled about it.
Fact: @PaulMcCartney is a humanitarian, and vegetarian. I am fairly certain he would not appreciate Trump blasting Live and Let Die to celebrate his announcement that people should die for the good of his financial ratings. Or his petty refusal to wear a mask

— Howard ✡ (@HowardA_Esq) May 6, 2020
There's currently more than 1.2 million coronavirus cases in the US and the death toll has almost reached 75,000.
Want more? Listen to this best bit from Jonesy & Amanda!