A plaster cast replica of Jimi Hendrix's penis has been donated to the Icelandic Phallogical Museum in Reykjavik and will be put on display there next month.
The cast was donated by famed 'Plaster Caster' Cynthia Albritton, who passed away last month at age 74.
"It is with feelings of sadness and pride, that The Phallogical Museum announces that prior to passing Cynthia 'Plaster Caster' Albritton decided to donate to the museum with one of a few casts of Jimi Hendrix," the museum announced Monday.
Albritton was renowned for her phallic cast sculptures, which included more than 100 casts of members belonging to famed rockstars like Gene Simmons, Jim Croce, Wayne Kramer, Eric Burdon, Mark Lindsay and many others.
The Hendrix cast is by far Albritton's most famous piece. She said he was also the first "real rock star" to contribute to her life's work.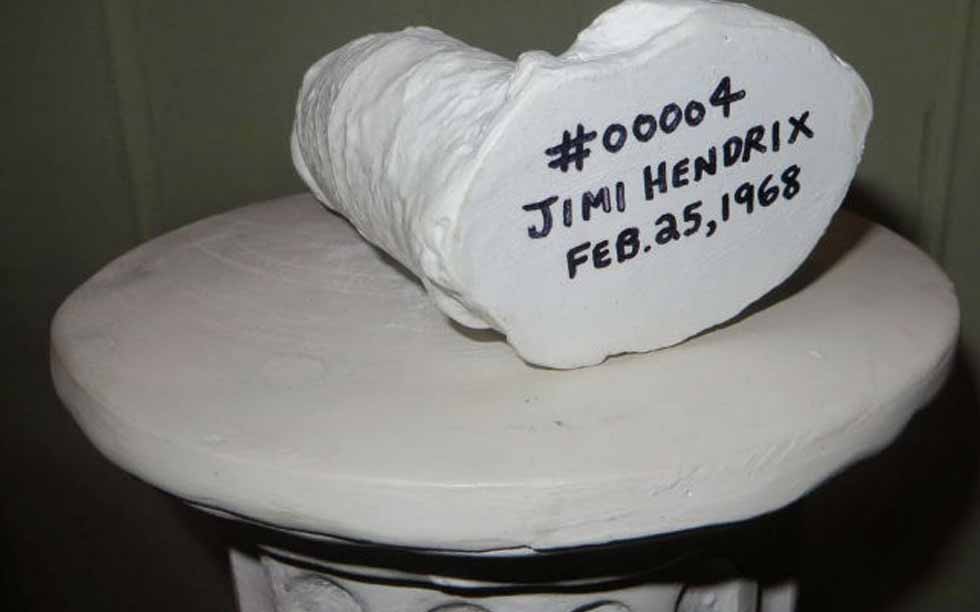 "It wasn't our very first cast," Albritton had told Rock Scene.
"I had tried it on a few civilians first to be ready for Jimi. He's my biggest. No, he's not my biggest. There are 'bigger-ish' others. But I couldn't say whether or not he's my most exciting. Because they're my sweet babies and I am their mama and I'm very democratic with all my babies. I don't like to play favorites. I love them all. The experiences were equally exciting and weird and different from each other."
She credited an art professor at the University of Illinois Chicago with giving her the idea for the intimate plaster casts in the late '60s.
By the early '70s, Albritton began exhibiting her collection publicly.
Croce paid homage to her in his 1973 song "Five Short Minutes."
Kiss did the same with 1977's "Plaster Caster."
Albritton was later featured in documentaries, including Plaster Caster and Let's Spend the Night Together: Confessions of Rock's Greatest Groupies.