We are loving the Games. Seriously we have it on 24/7 because we don't want to miss a single second! But recently an Aussie artist put the call out to play more Australian music during Channel 7's stream and we couldn't agree more!
Jack River aka Holly Rankin posted on her Instagram on Thursday to start a campaign to get more Aussie music hitting our ears. Her post says "Dear Channel 7 and Corporate Aus, How great it would be if you played all Australian music in your coverage…These are Australian moments, they deserve Australian music."
View this post on Instagram
YES JACK RIVER! 👏👏👏 How incredible would it be to hear our amazing Aussie artists as we watch our greatest athletes win gold! SO many local artists commented on her post agreeing and wanting to promote their music including Lime Cordiale, Vera Blue, Cub Sport, Dj Tiger Lily and G Flip!
Channel 7's Edwina Bartholomew commented on the post confirming they'd heard the call and are getting on board!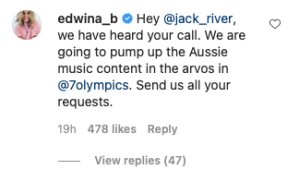 So get excited to hear our incredible Aussie artists in the afternoon sessions of the Games. Jack River replied saying "this is so exciting and will make a huge impact on the carers of Aussie artists!"
She also put the call out to the big supermarket chains like Woolies and Aldi, banks and advertisers to use local artists. I've got to be honest, the Woolworth playlist SLAPS but hearing Aussie music while doing my weekly shop would put a pep in my step. I'd probably stay longer just to listen to the music.
Bank Australia responded to the call saying "We'd LOVE for you to be our soundtrack" but we'd love to see other major companies such as Bunnings, Harvey Norman, Optus and Telstra to get on board!

We need to support our Aussie artists now more than ever.
Want more? Listen to this best bit from Jonesy & Amanda!