He's the loveable English lad who stole the show and instantly impressed Angie Kent with his quirky ways during the first two episodes on The Bachelorette.
However, the Gogglebox star might not be too happy with Ciarran Stott after seeing shocking video that has emerged of the Darwin-based larrikin.
On Friday, New Idea released exclusive footage, showing Ciarran appearing to snort an unknown powder off the bare bottom of a male friend.
The footage shows the reality star enjoying himself as the male reclines face-down on a kitchen bench top, with his kilt pulled down to expose his bottom.
Ciarran appears to snort something from the man's backside and then elicits cheers by taking a good sniff of the man's rear cleavage.
It's not the first time scandal surrounding the reality star, after a string of images appearing from his days as a performer of the stage show at Darwin Gay club, Throb emerged this week.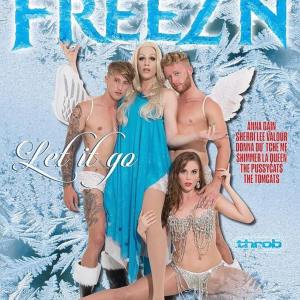 Image: Facebook
A friend of Ciarran's told The Daily Mail, "He's not gay but has always been the centre of attention and loved being up on the stage."
In fact, the blonde Adonis is said to be "very well known" in Darwin and 'a really nice guy."
He may be a nice guy, but boyfriend material? We'll leave that up to Angie Kent to decide!
Want more? Listen to this best bit from Jonesy & Amanda!