Although it's been 16 years since he passed away from cancer, the youngest member of The Beatles is far from forgotten.
George Harrison was one of the most iconic musicians of his time but "didn't like the idea of being too popular".
Here are 8 surprising facts about the "Quiet Beatle"…
His Date Of birth Is Often Disputed
For most of his life, Harrison thought his birthday was February 25th. You'll find most books and biographies state this date, even Wikipedia do to this day. However, near the end of his life, Harrison insisted that he was born on February 24th, 1943 at 11:50PM. A family document has revealed this to be true.
He Took LSD For The First Time By ACCIDENT
We all know Harrison and The Beatles were no strangers to drugs.
Their introduction to LSD ignited a major change in their creative direction. However, John Lennon and Harrison's first acid trip was entirely accidental. Harrison and Lennon were given coffee laced with LSD by their dentist at a dinner party.
"Suddenly I feel the most incredible feeling come over me. It was something like a very concentrated version of the best feeling I'd ever had in my whole life. It was fantastic. I felt in love, not with anything or anybody in particular, but with everything. Everything was perfect, in a perfect light, and I had an overwhelming desire to go round the club telling everybody how much I loved them – people I'd never seen before." Harrison, Anthology.
He LOVED Comedy
So much so, he invested $4M of his own money towards Monty Python's, The Life Of Brian.
The comedy troupe were having trouble getting their movie financed, so Harrison created the production company HandMade Films to produce their film.
Harrison mortgaged his home to help finance it. The film continues to be a cult comedy classic. Spot his uncredited cameo appearance as Mr. Papadopolous…
He Was Admired By Frank Sinatra
Sinatra wasn't a huge fan of rock n roll, but he was a fan of George's work. He described Harrison's "Something" as the GREATEST love song of the last 50 years. Towards the end of Sinatra's career he would often cover Harrison's song live.
He Once Got Into A Fight Over A Biscuit
That's right, a biscuit. Only the Brits! Things were already tense amongst The Beatles' inner-circle whilst recording at Abbey Road Studios. Yoko Ono's presence in the group didn't help.
While making 'Abbey Road', Ono pinched a biscuit from a packet Harrison left on his amplifier. The last biscuit. Harrison was furious. He found it extremely disrespectful that she would touch his food without asking and made it very clear to Yoko that she had crossed the line.
Photo: Corbis
He Played Over 25 Different Instruments
Not JUST an incredible guitarist. Harrison also played the Sitar, Bass Guitar, Piano, Harmonica, Autoharp, Mandolin, Marimba, Dobo, Violin and over a dozen other instruments.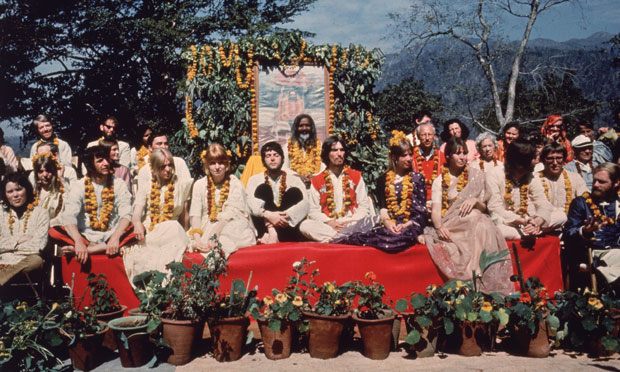 Photo: Getty
He Lost His Virginity While The Other Beatles Secretly Watched
At the young age of 17, Harrison lost his virginity to a German Dancer. The mischievous boys were so casual about sex that privacy clearly didn't matter. "My first shag was in Hamburg, with Paul and John and Pete Best all watching…we were in bunk beds…after I'd finished, they all applauded" Harrison says.
Photo: Getty
He Had QUITE A Green Thumb
Harrison was a passionate gardener. In the early 70's he purchased Friar Park which was filled with lush flowers, plants and streams. He would often spend up to 12 hours a day nourishing the plants on his estate grounds.
Harrison's autobiography I Me Mine (1980) was dedicated to "all gardeners everywhere". Harrison wrote "I'm really quite simple. I don't want to be in the business full time, because I'm a gardener. I plant flowers and watch them grow. I don't go out to clubs. I don't party. I stay at home and watch the river flow".
MORE: PAUL MCCARTNEY AND FAMILY CELEBRATE GEORGE'S 75TH BIRTHDAY
MORE: ARISE SIR RINGO! BEATLES DRUMMER GETS KNIGHTHOOD
Want more? Listen to this best bit from Jonesy & Amanda!